8 Stages of Spine Treatments
Step-by-step personalized spine treatment Wooridul Spine Hospital provides the most appropriate stage of causal treatment based on the patient's condition from non-surgical treatment to minimally invasive and more difficult spine treatment. By providing the treatments based on the accurate diagnosis, the success rate of treatment is improved while reducing the recurrence rate.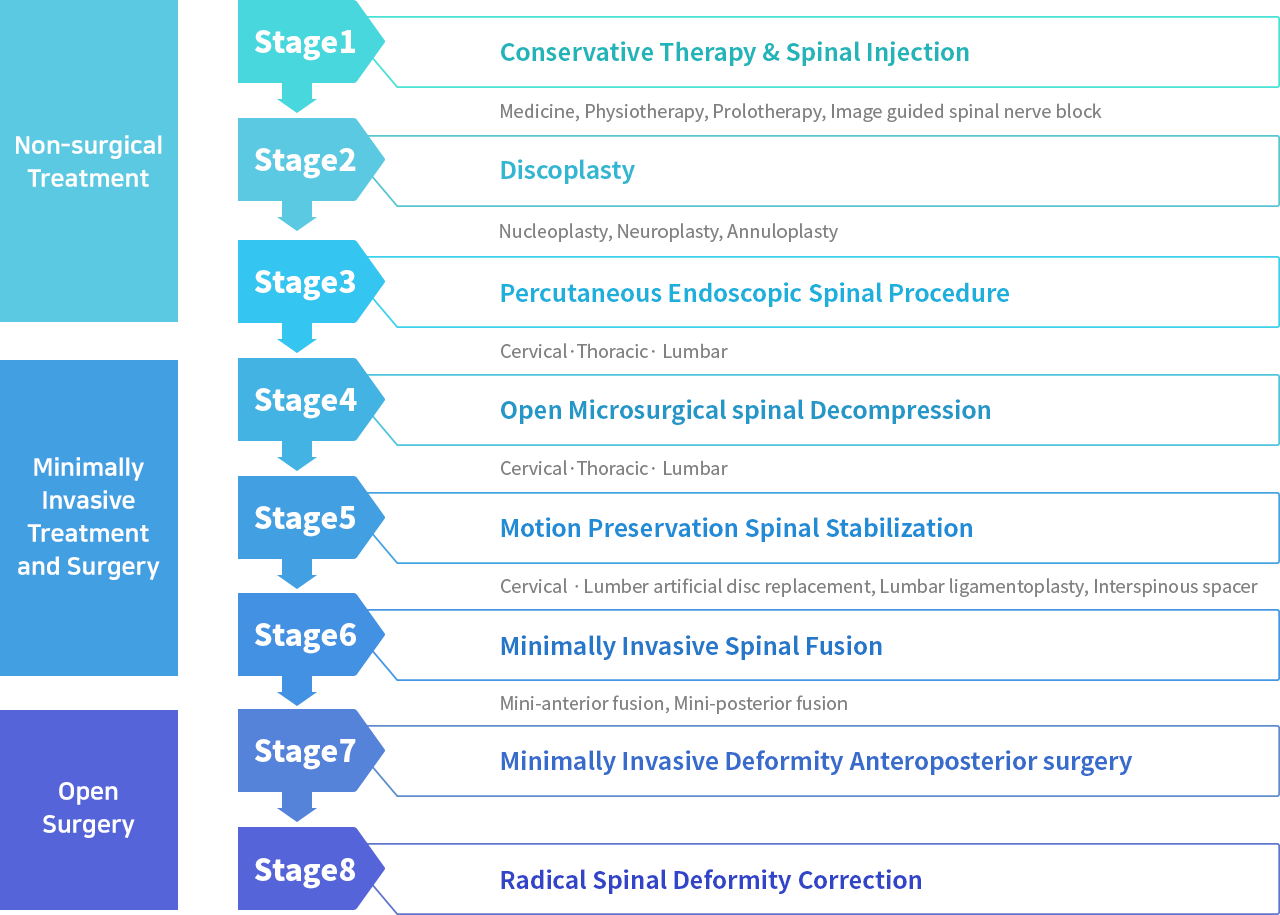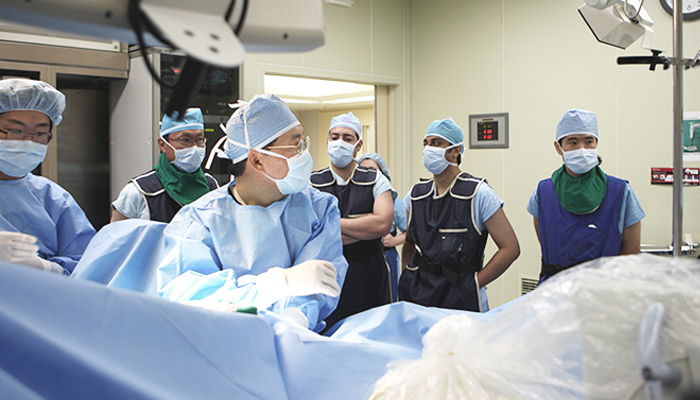 What is Wooridul's 8 Stages of Tailored Spine Treatments? Wooridul Spine Hospital provides step-by-step treatment that is most suitable for each patient through sufficient review by our doctors after the 5 stages of diagnostic tests.
Stage 1

Conservative Treatment and Spinal Injection

Exercise, Medication, Image-guided (CT-guided) spinal nerve block, Ultrasound-guided joint injection, Prolotherapy, Physical therapy

Stage 2

Discoplasty

Spine/Joint high radiofrequency therapy, nucleoplasty, annuloplasty

Stage 3

Percutaneous Endoscopic Spinal Procedure

Cervical ∙ Thoracic ∙ Lumbar

Stage 4

Open Microsurgical Decompression

Cervical ∙ Thoracic ∙ Lumbar

Stage 5

Motion Preservation Spinal Stabilization

Cervical Lumbar artificial disc replacement, Lumbar ligamentoplasty, Soft stabilization with intraspine

Stage 6

Minimally Invasive Spinal Fusion

Mini-anterior fusion, Mini-posterior fusion

Stage 7

Minimally Invasive Deformity Anteroposterior Surgery

Single/Multi segmental anterior fusion, Corpectomy and fixation

Stage 8

Radical Spinal Deformity Correction

Anteroposterior spinal fixation for kyphosis, Deformity correction for scoliosis
Advantages of Tailored Spine Treatments System

Non-surgical procedures are performed first according to the patient's symptoms.
If surgery is necessary, we minimize the wound as much as possible through minimally invasive surgery.
Elderly people, patients with heart disease, diabetes or organ transplants, and patients, who are worried about general anesthesia, can receive treatment safely.
You can be discharged on the day or a day after the procedure. Because of fast recovery, students, workers, celebrities, and athletes who cannot be hospitalized for a long time can receive treatment without any burden.

Treatment effect, satisfaction
Side effects, complications

Checklist When You Choose a Spine Specialty Hospital

Are they spine surgeons with sufficient surgical experience and qualifications?
Do they have state-of-the-art facilities, equipment, systems, and spine specialists?
Can they perform both open surgery and minimally invasive causal treatment?
Is the success rate of the procedure high while the risk of complications and sequelae low?
Is it a hospital where specialists from various departments such as neurosurgery, orthopedic surgery, abdominal (thoracic) surgery, anesthesiology, pain medicine, neurology, and rehabilitation medicine can cooperate to treat the patient?
Are the hospitalization and recovery period short after the procedure (surgery)?

After the 5 Stages of diagnostic tests to determine the exact cause
The most appropriate treatment for the patient's condition is performed to improve the success rate.
Learn more about diagnostic examinations