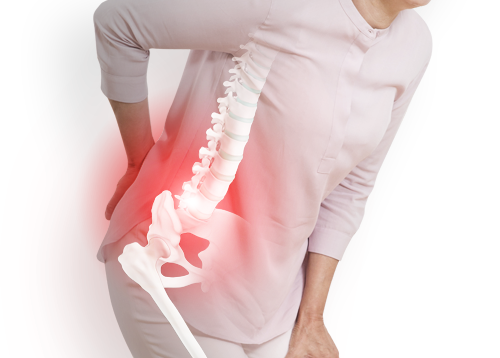 Neurosurgically your Back Pain
is caused by various diseases such as Sprain, Disc Bulging/Herniation, Foraminal Disc Herniation, Degenerative Disc Disease, Spinal Stenosis, Spondylolisthesis, Spondylolysis, Fracture, Facet Cyst, Tumor, Scoliosis, etc.
Stage 8
8 Stages of Tailored Spine Treatments
at Wooridul Spine Hospital
To correct the angle of the curvature of the spine as much as possible
Deformity Correction Surgery
This surgery is to prevent further curvature of the spine and create a balanced spine when the curve is more than 40°, when daily life is difficult due to severe deformation, or when the appearance is unsightly.
Normal Spine

Scoliosis
It is a high-level surgical method that can straighten a severely curved spine, and it can be operated safely with little bleeding and step-by-step surgery through collaboration with a spine specialist, general surgeon and thoracic surgeon.
Establishing a treatment plan with EOS Imaging System
Advantages of Deformity Correction
Able to correct the curved spine
Accurate diagnosis and correction with advance equipment, EOS imaging system
Reduced operation time significantly with team surgery system consisted of more than 3 specialists
Average Hospitalization is 1week
1

Lateral interbody fusion combined with open posterior surgery for adult spinal deformity

2

Decision Making Algorithm for Adult Spinal Deformity Surgery

3

Comparative analysis of 3 surgical strategies for adult spinal deformity with mild to moderate sagittal imbalance

4

Does correction of preoperative coronal imbalance make a difference in outcomes of adult patients with deformity?
SCI-level international journals on anterior lumbar interbody fusion written by Wooridul Doctors
Treatment Cases
Find out more through our social media channels!Click!

Before Surgery

After Surgery
Corrected the curved spine from 125° to 70° after deformity correction 16-year-old female patient who developed severe scoliosis after treatment with alternative therapies