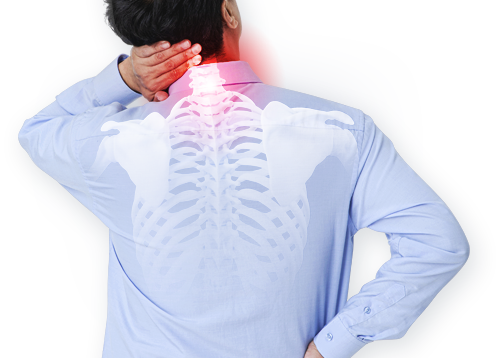 Neurosurgically your Neck Pain
is caused by various diseases such as Sprain, Disc Bulging/Herniation, Cervical Stenosis, Foraminal Stenosis, OPLL, Tumor, etc.
Stage 3
8 Stages of Tailored Spine Treatments
at Wooridul Spine Hospital
No scar and no complication of hoarse voice
Endoscopic Cervical Decompression
Unlike open surgery in which the skin is incised, the disc is completely removed, and an artificial disc is inserted, it is a micro procedure that does not require bone fusion surgery by selectively removing the herniated disc fragment only and preserving the normal disc tissues.
Therefore, this treatment is available for elderly and diabetic patients as well.
No scars left after surgery
Before endoscopic cervical procedure

After endoscopic cervical procedure
Advantages of Endoscopic Laser Decompression
No complication of hoarse voice
No spinal epidural hemorrhage
No need for artificial disc or bone fusion
Almost no recurrence, short treatment time
Fast return to daily life
Safe treatment for elderly and diabetic patients
Average Treatment Time is 1hour
Success Rate is over 90%
Average Hospitalization is 1day
1

Clinical and Radiographic Changes After Percutaneous Endoscopic Cervical Discectomy: A Long-Term Follow-Up

2

Percutaneous endoscopic cervical discectomy for discogenic cervical headache due to soft disc herniation

3

Percutaneous endoscopic cervical discectomy: clinical outcome and radiographic changes
SCI-level international journals on endoscopic cervical decompression written by Wooridul Doctors
Treatment Cases
Find out more at our social media channels!Click!

Before Procedure

After Procedure

36-year-old male patient complaining of radiculopathy

Before Procedure

After Procedure

63-year-old female patient who maintains the disc height without recurrence for 19 years